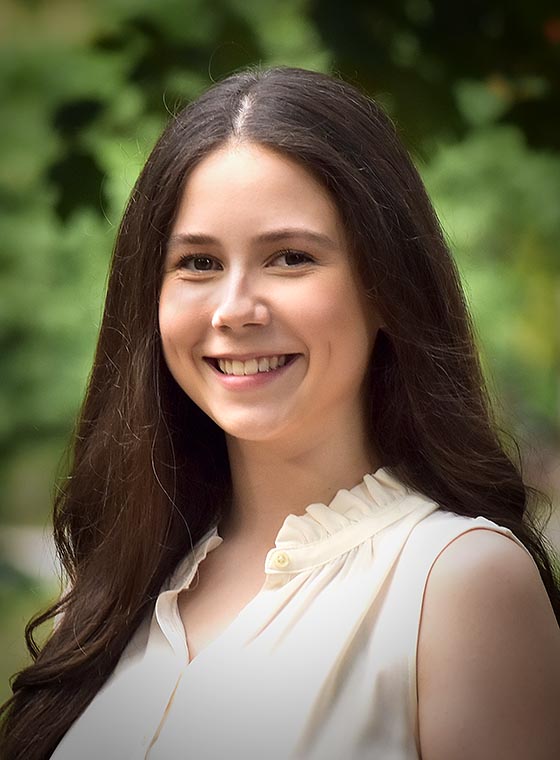 Career Highlights
Compliance Assessments

Program Management

HIPAA Assessments

Compliance Auditing

Brand Management

GRC Tools

Statistical Analysis

Investigations

Marketing and Communication
Rachael Mills is a Managing Consultant with SunHawk Consulting, LLC and is experienced in medical claims analytics, statistical analysis, compliance assessments, GRC (governance, risk and compliance) platform configuration and overall project and program management. She is skilled in compliance program communication development including digital design, brand management, training development, and marketing communications. At a national healthcare credentialing organization Ms. Mills assisted with the design and implementation of both internal and external forms of marketing communications and collateral. At SunHawk, she has supported numerous compliance reviews, HIPAA assessments, statistical engagements, investigations, and GRC tool implementations. Ms. Mills has assisted with annual compliance risk assessments conducted for clients as part of their Corporate Integrity Agreement (CIA) with the Office of Inspector General (OIG), as well as supported SunHawk during Independent Review Organization (IRO) engagements.
Select Engagement Experience
Statistical Analysis and Audit Services
Provided overall project management and assistance with the data analysis, random sample preparation, and extrapolation for hospice client to determine repayment of Medicare overpayments related to physician face-to-face visits.
Assisted with multiple coding audits and statistical repayment analyses for a large health system. Provided overall project management and quality assurance including coordination of coding team efforts and review of audit results. Assisted with the extrapolation and determination of repayment amount and report development.
Assisted with quarterly claims audits for multi-state private equity 30+ location dental organization, including review of audit results and drafting of the quarterly report providing recommendations for compliance and business process improvements.
Compliance Assessments and Support
Assisted with compliance assessment of a large home and community-based specialty health care provider, including overall project management, scheduling facilitation, and review of final deliverables to client.
Led coordination of SunHawk team with Compliance Program implementation for a multi-state Dental Service Organization. Without a program previously in place, client requested SunHawk to develop the program in support of their bank lending requirements. Rachael provided overall project management including organization of deliverables and communication of weekly updates on project. She led implementation of the company's ethics hotline and monthly OIG exclusion screening process.
Review of Claims for a Large Dental Organization
A large multi-practice dental organization engaged SunHawk to perform a random sample review of claims on a quarterly basis, ensuring that documentation and billing met requirements. Based on SunHawk's review, we provided recommendations for internal practice and medical documentation, aiming to clearly substantiate that procedures were performed. Over the year-long project, the practice group initiated several small yet significant changes, which led to a decrease in the frequency of coding errors and improvements in clear, supportive documentation.
Behavioral Health Organization Evaluation for a New EHR System
SunHawk partnered with a large, multi-faceted behavioral health organization to evaluate their current procedures, documentation, and coding as they sought a new electronic health record (EHR) system. Through staff interviews, site visits, and facility tours, SunHawk identified limitations of the existing EHR system and understood the process flow from patient intake to discharge. They distinguished necessary tasks from desirable ones in a new EHR system, which helped to eliminate or reduce the current limitations. This led to a tailored requirement list for a new EHR system, which the entity presented to prospective vendors for a customized solution.
Medical Coding Audit and Clinical Documentation Improvement Related to Acquisition
SunHawk Consulting was entrusted by a multi-state population health management company to carry out a comprehensive audit of documentation for telehealth visits. This audit was necessitated as part of the strategic acquisition of a California-based health plan that was utilizing telehealth services for its members. Throughout the auditing process, SunHawk employed its expertise to unearth critical insights and identify necessary modifications to the existing documentation templates as clinical documentation improvements to ensure documentation supported all requirements of a telehealth visit.
Clinical Documentation Improvement and Medical Coding Audit on Annual Wellness Visits
SunHawk Consulting was hired by a multi-state population health management to carry out a comprehensive audit of medical record documentation of encounters which had been billed as a Medicare Annual Wellness Visit (AWV). This audit was necessitated as part of the strategic acquisition of a California-based health plan that was utilizing telehealth services for the AWV for its members. SunHawk identified missing and/or inadequate documentation, calculated the resulting Medicare overpayment, and formulated a comprehensive list of proposed changes for provider education and the existing documentation templates for clinical documentation improvement purposes.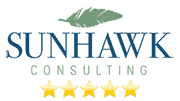 "SunHawk was an outstanding partner in the provision of interim leadership in compliance and internal audit for our organization.  They provided seamless coverage and advancement of our compliance and internal audit functions.  As CEO, I had no concerns or worries during our engagement.  They were true partners for us!"
Alfred E. Pilong
President and CEO
Garnet Health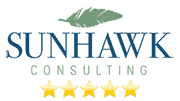 "James and the SunHawk team have been an invaluable resource for our Compliance Office - they are a reliable, well experienced, trusted and knowledgeable team of professionals who at a moment's notice will take your calls or respond to your emails.

Their advice helped us navigate the ever evolving, highly regulated healthcare industry!  Whether it's discussing report methodology or determining appropriate repayment, SunHawk provides the reassurance and confidence that you are doing the right thing!
We are honored to have partnered with SunHawk and will continue to do so in the future!"
Natasha Cogdill
Vice President/Chief Ethics, Compliance and Privacy Officer
Community Health System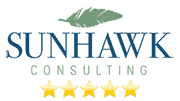 "SunHawk's professionals are leaders in the compliance and risk industries. Over the years I have worked with a number of their professionals on a series of projects/issues and learned SunHawk's professionals are problem/solution-oriented and great coalition builders. 
SunHawk Professionals get the job done and are a pleasure to work with. Commitment, Experience, Professionalism, and Integrity; that's what SunHawk Professionals brings to the table."
Gerry Roy
Vice President/Chief Ethics, Compliance and Privacy Officer
Phoenix Children's Hospital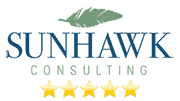 "Jim Rough is among the most conscientious professionals I have encountered. When he says he is going to do something -- he does it. Jim has a broad range of experience gained over decades in leading organizations.​
Now as the founder of his own firm, Jim will be enabled to provide the same high-quality service to his clients in a setting that allows greater customization to his clients' financial circumstances."
Frank M. Placenti
Chair, US Corporate Governance & Securities Regulation
Practice, Squire Patton Boggs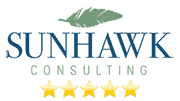 "SunHawk Consulting's HIPAA Check Program provided us with an invaluable third-party review of our HIPAA policies and practices. The tracking tool SunHawk includes with the Program has become an integral part of our continued monitoring for HIPAA compliance.
Jan Elezian's extensive hands-on compliance experience was evident during site visits and staff interviews as she translated difficult subject matter into practical use scenarios and provided quality feedback. Thank you SunHawk team!"
Nancy Lipman
Vice President, Compliance
Chicanos Por La Causa, Inc.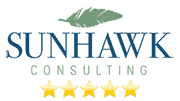 "SunHawk provides an array of dynamic professionals, each with significant subject matter expertise and a problem-solver approach. Beyond their knowledge and conscientious work ethic, however, is a team of caring individuals who strive to furnish individualized, tailored assistance with a personal touch. 
Jim Rough's dedication to the success of SunHawk clients is evidenced by his strategic and prospective thinking complemented by his ability to truly anticipate the needs of a company in the midst of the complicated compliance climate. I highly recommend SunHawk for companies of any size seeking actionable solutions and measurable results."
Michelle Missal
Vice President and Chief Compliance Officer
Paragon 28, Inc.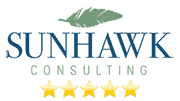 "Sunhawk Consulting has proven to be a trusted partner with the ability to deliver results. We have consistently been impressed with their expertise, professionalism, and commitment to customer service.  Sunhawk Consulting has supported our enterprise-wide risk assessment, risk management activities, and the configuration of our Governance, Risk and Compliance software tool.
Sunhawk Consulting's leadership and consultative services have helped us to successfully navigate through the complexities of SOC, HIPAA, NIST and FedRAMP audits this year.  The knowledgeable team of Sunhawk professionals has been and continues to be an invaluable resource for us, ensuring we are positioned for success in all our audits and assessment activities."
Zachary Fain
Chief Technology Officer (CTO)
Signature Performance
Sign up for Our Newsletter
Your information is private and will NEVER be shared outside of SunHawk Consulting.
SunHawk Consulting specializes in professional consulting services and has a team of highly skilled subject matter experts with substantial backgrounds in:
* Healthcare Compliance: Statistical Sampling, Medical Coding Audits, Healthcare Compliance Programs, Evaluation of Compliance Programs and Risk Assessments, HIPAA Compliance Risk Assessments & Training, Corporate Integrity Agreement (CIA) Board Advisor, Independent Review Organization (IRO) Services, Interim Healthcare Compliance Support, Physical Security Assessment, Design and Implementation of Sunshine Act Compliance Programs, Enterprise Risk Management Optimization, Governance, Risk and Compliance (GRC) System Support, Electronic Health Record (EHR) System Implementation, Outsourced Audit Function Support, Medical Risk Adjustment Compliance (Medicare, Medicaid, Commercial), Policy, Procedure, Internal Control Development and Evaluation, FedRAMP Compliance;
* Corporate Investigations: Fraud Investigations and Forensic Accounting, Anti-money Laundering (AML), Bank Secrecy Act (BSA), Know Your Customer (KYC), Foreign Corrupt Practices Act, Third-party Due Diligence;
* Corporate Compliance: Evaluation and Design of Corporate Compliance Programs, Interim Compliance Support, Compliance Risk Assessments, Physical Security Assessment, Enterprise Risk Management, Private Equity Governance, GRC System Support, Audit Function Support, Fraud Risk Assessments, Investigations Program Assessment and Enhancements, Qui Tam Investigations, Hot Line Support;
* Litigation Disputes: Complex Litigation and Disputes, Mergers and Acquisitions: Regulatory Due Diligence, Expert Witness, Statistical Analysis, Healthcare Payment Disputes, Litigation Support, Physical Security Assessment,  Neutral Party Data Analysis.