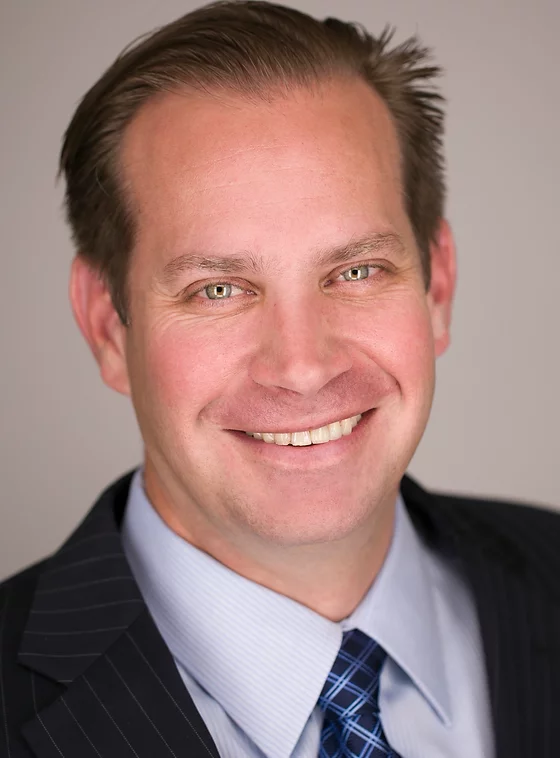 Career Highlights
Citizens Academy Graduate, FBI
Certified Fraud Examiner (CFE), Association of Certified Fraud Examiners
Certified in Healthcare Compliance (CHC), Compliance Certification Board
Certified Compliance and Ethics Professional (CCEP), Society of Corporate Compliance and Ethics
Client Service Hall of Fame 2009 and 2010, Navigant Consulting
James Rough is President of SunHawk Consulting, LLC. a U.S.- based Disputes, Compliance and Investigations Consulting Firm with experts in the Healthcare, Life Sciences, and Insurance Industries. Mr. Rough is a Certified Healthcare Compliance Professional, Certified Fraud Examiner, Certified Compliance and Ethics Professional and graduate of FBI Citizen's Academy. Mr. Rough has also served on the Audit Committee of the Board of Directors for two entities and is adjunct professor focused on Healthcare Compliance, for the Masters of Legal Studies Compliance Program, at Arizona State University, Sandra Day O'Connor, College of Law. 

For 20 years, U.S. and international clients have trusted Mr. Rough to perform independent fraud investigations, compliance effectiveness assessments; consult on complex contract disputes including quantification of damages; perform complex data analytics on large datasets and perform sample selections using various methods. He has also served as an independent technical advisor to State Auditors and the Centers for Medicaid & Medicare Services (CMS). Mr. Rough's unique combination of formal financial, fraud and forensic training is coupled with significant experience in various healthcare industry segments and familiarity with associated large transactional, financial, and regulatory data sets. This knowledge base provides clients with a multi-faceted expert when they are facing compliance, internal and external investigation, litigation, financial accounting, and other compliance challenges. 
Mr. Rough regularly advises clients on multiple topics, including the False Claims Act, Affordable Care Act, Stark Law & Anti-Kickback Statute, Medical Loss Ratios (MLR), Usual and Customary Rates in Healthcare Industry, Claims Data Analytics, Fraud Prevention and Investigation, Statistics including proper use of RAT-STATS software and technical accounting for revenue recognition. Mr. Rough's healthcare clients include some of the nation's largest insurers, hospital systems, global medical device/implant manufacturers and utilization managers. 
Mr. Rough has led or had significant roles in high-profile forensic investigations and compliance reviews domestically as well as in Europe and the Middle East. Mr. Rough has provided significant support to clients communicating complex issues to regulatory and enforcement personnel, including the Department of Justice (DOJ) and Health and Human Services (HHS) – Office of Inspector General. He has communicated investigation and/or audit findings directly to CMS, State Medicaid Auditors, and to the Securities and Exchange Commission's (SEC) enforcement personnel. Mr. Rough has also served as a non-testifying subject matter expert to white-collar defense counsel in high-profile criminal DOJ, civil SEC, and class action proceedings. 
Mr. Rough is a regular lecturer for the Health Care Compliance Association (HCCA) on best practices for Communicating with Government Regulators and Enforcement personnel and Investigations. Mr. Rough serves as Chair of the annual Arizona Regional Conferences for HCCA and Society of Corporate Compliance and Ethics (SCCE), serves on planning committee for the HCCA and SCCE's Annual Board Audit and Compliance Committee Conferences and on the planning committee for the HCCA annual Indiana Regional Conference. Mr. Rough is also Chair of the Arizona Ethics and Compliance Council and is and adjunct professor for Arizona State University, Sandra Day O'Connor, College of Law.
Select Engagement Experience
Compliance Project for Major Utilization Management Vendor
SunHawk was engaged by one of the nation's largest utilization management vendors to prepare policies, procedures, and reporting templates designed to ensure proper Medical Loss Ratio reporting for Commercial, Medicare Advantage and States' Medicaid programs, including testing of quality improvement initiative expenses.
Usual and Customary Market Rates Expert Report Prepared For Healthcare Litigation Case
SunHawk was engaged by outside counsel of health insurers to testify in defense of lawsuits involving appropriate reimbursement for out-of-network providers under state regulations, contracts, and industry standards. In many cases, we use public Medicare reimbursement information and private commercial reimbursement datasets to determine Usual and Customary Market Rates (UCR).  We were also asked to testify on usual claims management and payment practices of health insurers based on the facts of the case. 
Internal Investigation on Behalf of General Counsel of Construction Company
SunHawk was engaged by the management of a national interior design and construction provider to investigate possible bribery and other ethics violations under the direction of General Counsel.  The investigation team performed anemail review of approximately 700,000 emails and conducted twenty interviews over a two-month period.  Besides providing a report of investigation findings, SunHawk recommended areas of program improvement to company management.
Audit Committee Investigation for International Medical Device Company
Engaged by general counsel for Medical Device Manufacturer to perform independent investigation of alleged embezzlement of funds by a former employee of the company, through submission of related party invoices for non-provided services. E-mail and hard drive review, as well as interviews of accounting personnel and management were used to prepare a report of findings to Audit Committee and ultimately, to law enforcement. Individual ultimately pled guilty to mail fraud and was sentenced to 15 months in federal prison.
"Ghost Employees" Investigation
Mr. Rough conducted an investigation involving "ghost employees" added to a company's payroll by a department supervisor. The supervisor was responsible for the department's timekeeping and, over a three-year period, falsified time records for 33 nonexistent employees, resulting in a $3.5M loss to the company. Mr. Rough successfully concluded the investigation with a near-complete return of losses from the company's insurers after it conducted an independent audit of the investigation. In addition, the investigation resulted in a criminal referral to federal law enforcement authorities.
Implementation of Sunshine Act Compliance Reporting Program for Medical Device Company
An international neuroscience company engaged SunHawk to fulfill the requirements of a U.S.-based federal transparency law overseen by the Centers for Medicare & Medicaid Services (CMS), commonly known as the Sunshine Act or Open Payments. With the CMS reporting deadline quickly approaching, SunHawk successfully completed a comprehensive current-state assessment and provided a right-sized solution. SunHawk also supported the company with expert advice on the legislative complexities and nuances of the act, along with practical tips for achieving compliance. Consequently, the company was able to submit its first report ahead of the deadline and was well-positioned to maintain compliance with the act moving forward.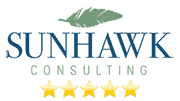 "SunHawk was an outstanding partner in the provision of interim leadership in compliance and internal audit for our organization.  They provided seamless coverage and advancement of our compliance and internal audit functions.  As CEO, I had no concerns or worries during our engagement.  They were true partners for us!"
Alfred E. Pilong
President and CEO
Garnet Health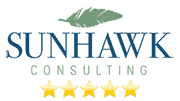 "James and the SunHawk team have been an invaluable resource for our Compliance Office - they are a reliable, well experienced, trusted and knowledgeable team of professionals who at a moment's notice will take your calls or respond to your emails.

Their advice helped us navigate the ever evolving, highly regulated healthcare industry!  Whether it's discussing report methodology or determining appropriate repayment, SunHawk provides the reassurance and confidence that you are doing the right thing!
We are honored to have partnered with SunHawk and will continue to do so in the future!"
Natasha Cogdill
Vice President/Chief Ethics, Compliance and Privacy Officer
Community Health System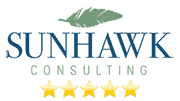 "SunHawk's professionals are leaders in the compliance and risk industries. Over the years I have worked with a number of their professionals on a series of projects/issues and learned SunHawk's professionals are problem/solution-oriented and great coalition builders. 
SunHawk Professionals get the job done and are a pleasure to work with. Commitment, Experience, Professionalism, and Integrity; that's what SunHawk Professionals brings to the table."
Gerry Roy
Vice President/Chief Ethics, Compliance and Privacy Officer
Phoenix Children's Hospital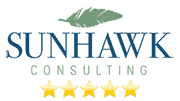 "Jim Rough is among the most conscientious professionals I have encountered. When he says he is going to do something -- he does it. Jim has a broad range of experience gained over decades in leading organizations.​
Now as the founder of his own firm, Jim will be enabled to provide the same high-quality service to his clients in a setting that allows greater customization to his clients' financial circumstances."
Frank M. Placenti
Chair, US Corporate Governance & Securities Regulation
Practice, Squire Patton Boggs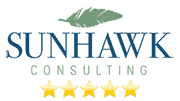 "SunHawk Consulting's HIPAA Check Program provided us with an invaluable third-party review of our HIPAA policies and practices. The tracking tool SunHawk includes with the Program has become an integral part of our continued monitoring for HIPAA compliance.
Jan Elezian's extensive hands-on compliance experience was evident during site visits and staff interviews as she translated difficult subject matter into practical use scenarios and provided quality feedback. Thank you SunHawk team!"
Nancy Lipman
Vice President, Compliance
Chicanos Por La Causa, Inc.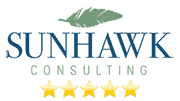 "SunHawk provides an array of dynamic professionals, each with significant subject matter expertise and a problem-solver approach. Beyond their knowledge and conscientious work ethic, however, is a team of caring individuals who strive to furnish individualized, tailored assistance with a personal touch. 
Jim Rough's dedication to the success of SunHawk clients is evidenced by his strategic and prospective thinking complemented by his ability to truly anticipate the needs of a company in the midst of the complicated compliance climate. I highly recommend SunHawk for companies of any size seeking actionable solutions and measurable results."
Michelle Missal
Vice President and Chief Compliance Officer
Paragon 28, Inc.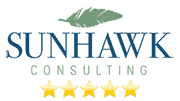 "Sunhawk Consulting has proven to be a trusted partner with the ability to deliver results. We have consistently been impressed with their expertise, professionalism, and commitment to customer service.  Sunhawk Consulting has supported our enterprise-wide risk assessment, risk management activities, and the configuration of our Governance, Risk and Compliance software tool.
Sunhawk Consulting's leadership and consultative services have helped us to successfully navigate through the complexities of SOC, HIPAA, NIST and FedRAMP audits this year.  The knowledgeable team of Sunhawk professionals has been and continues to be an invaluable resource for us, ensuring we are positioned for success in all our audits and assessment activities."
Zachary Fain
Chief Technology Officer (CTO)
Signature Performance
Sign up for Our Newsletter
Your information is private and will NEVER be shared outside of SunHawk Consulting.
SunHawk Consulting specializes in professional consulting services and has a team of highly skilled subject matter experts with substantial backgrounds in:
* Healthcare Compliance: Statistical Sampling, Medical Coding Audits, Healthcare Compliance Programs, Evaluation of Compliance Programs and Risk Assessments, HIPAA Compliance Risk Assessments & Training, Corporate Integrity Agreement (CIA) Board Advisor, Independent Review Organization (IRO) Services, Interim Healthcare Compliance Support, Physical Security Assessment, Design and Implementation of Sunshine Act Compliance Programs, Enterprise Risk Management Optimization, Governance, Risk and Compliance (GRC) System Support, Electronic Health Record (EHR) System Implementation, Outsourced Audit Function Support, Medical Risk Adjustment Compliance (Medicare, Medicaid, Commercial), Policy, Procedure, Internal Control Development and Evaluation, FedRAMP Compliance;
* Corporate Investigations: Fraud Investigations and Forensic Accounting, Anti-money Laundering (AML), Bank Secrecy Act (BSA), Know Your Customer (KYC), Foreign Corrupt Practices Act, Third-party Due Diligence;
* Corporate Compliance: Evaluation and Design of Corporate Compliance Programs, Interim Compliance Support, Compliance Risk Assessments, Physical Security Assessment, Enterprise Risk Management, Private Equity Governance, GRC System Support, Audit Function Support, Fraud Risk Assessments, Investigations Program Assessment and Enhancements, Qui Tam Investigations, Hot Line Support;
* Litigation Disputes: Complex Litigation and Disputes, Mergers and Acquisitions: Regulatory Due Diligence, Expert Witness, Statistical Analysis, Healthcare Payment Disputes, Litigation Support, Physical Security Assessment,  Neutral Party Data Analysis.