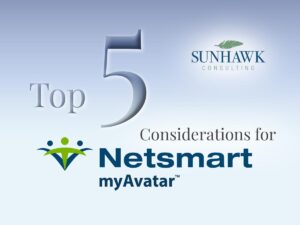 The NetSmart myAvatar platform provides a modern physical and behavioral health electronic health (EHR) record solution. As with all EHR implementations, there is a lot to consider before upgrading your environment, including how much of the heavy lift of the implementation will be placed on your organization.
You can stay ahead of those challenges and hit your go-live objectives by working through these top five considerations in advance of your project kick-off.
Understand the Current State: First, understand your own environment and how you want to improve your operations before you jump to moving to a new EHR. Otherwise, you may replicate the same inefficient and outdated assessments tools and workflows without proper analysis and planning.

A good organizational design analysis can help identify the core processes, regulatory and payor requirements, program leaders, and patient flows that will be key to your successful transformation.
Map Out Roles & Responsibilities: Understand the NetSmart Plexus implementation planning timeline, the resources NetSmart will bring, and what design and configuration activities they will (and will not) perform during the implementation. Define and document the activities that your own team will be expected to perform, such as designing and building many of the new forms to be used in the platform, defining data sets in the form of NetSmart-required data collection workbooks, and generating and manipulating extract files from your legacy system(s) for the data conversion process. In particular, understand the major strategic and platform usage decisions that your EHR leadership team will be required to make and the process for driving that decision making.
Visualize the Full Solution: Create a consolidated picture of the end-to-end EHR platform your organization will be deploying, including all the NetSmart components and other systems that will need to integrate with the EHR platform. As a platform that is continuing to mature and add new functionality (a good thing), some of the NetSmart products are well-integrated, some less so. This reality shouldn't prevent you from acquiring the full set of products that meet your needs, but you will need to consider in your planning how each of the products that you are purchasing from NetSmart will be used and the configuration options that are available. Important considerations during this planning include data integration requirements, the "source of truth" for data, reporting complexity, and maintenance activities that will be required over the platform's lifecycle within your organization.
Assess Your Infrastructure Readiness: A strategic IT assessment is a critical part of pre-implementation planning and preparation. You will need to understand any upgrades or changes within your current IT environment that may be required to support the NetSmart Areas of consideration include network connectivity and speed, end-user devices (including desktops, laptops, and tablets) reporting and analytic tools, user management and security, on-premise and cloud infrastructure, backup and disaster recovery planning, and e-mail communications.
Develop a Staffing Model: Develop a plan for allocating existing resources and staff augmentation during the implementation and post-go-live transition period. How do you plan on supporting current platform needs and requirements during the 10-to-14-month kick-off to go-live window? What additional staff and operational subject matter expert time will be needed for the new EHR implementation? A core set of business analysts, project managers, revenue cycle, and IT leaders is essential to ensure a smooth transition and drive the process reengineering required to optimize your workflows within the new NetSmart environment. Having an effective staffing model is essential for achieving your process, patient, and revenue improvement objectives.
Any EHR change is a heavy lift, but many organizations certainly succeed in delivering a high return on investment and improved clinical, staff, and patient satisfaction. Laying the proper groundwork before the implementation begins is one of the keys to achieving this success.
Check out this WSJ book review ('How Big Things Get Done' Review: Staying on Track) on the art of project management and the need for thorough analysis and planning coupled with rapid implementation in order to hit budget, time, and operational goals.
Reach out to our SunHawk consultants and IT advisors to discuss planning for your successful EHR implementation.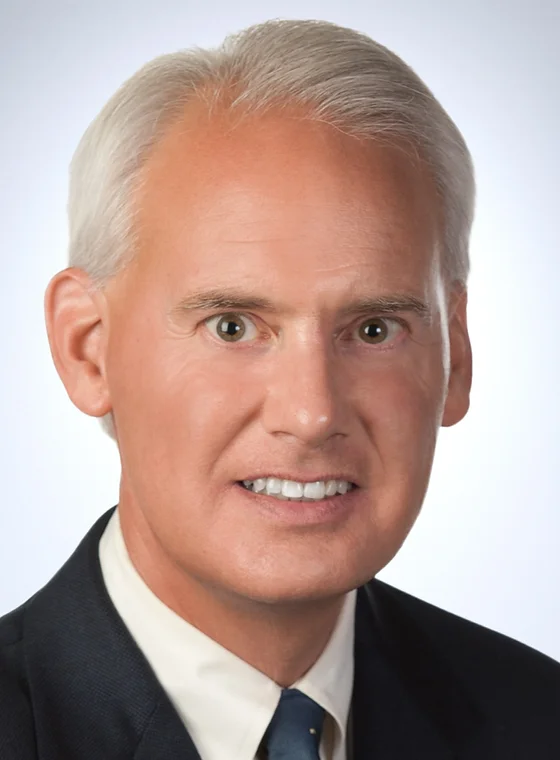 James Rose
Managing Director
SunHawk Consulting, LLC
James.Rose@SunHawkConsulting.com
James Rose is Managing Director of SunHawk Consulting LLC. James is a CPA and also holds certifications in Internal Auditing (CIA), Risk Management Assurance (CRMA), and Information Systems Auditing (CISA, CISSP). James is an experienced healthcare operations, governance, risk, and compliance executive focused on the healthcare and governmental industries. Most recently he served as Chief Financial Officer of Aperture Credentialing LLC, where he was also accountable for many of the traditional Chief Operating Officer duties in addition to CFO / Controller responsibilities. He currently serves as an expert advisor to the World Health Organization's Staff Health Insurance Global Oversight Committee (providing his expertise on health and wellness programs as well as medical insurance cost management and financial planning). James is also Chair of the Jefferson County Public Schools Audit and Risk Advisory Committee.
Have a question? We are ready to answer it.