Join Managing Director, Martin Biegelman at the HCCA Scottsdale Regional Healthcare Compliance Conference on November 4, 2022, in Scottsdale, AZ.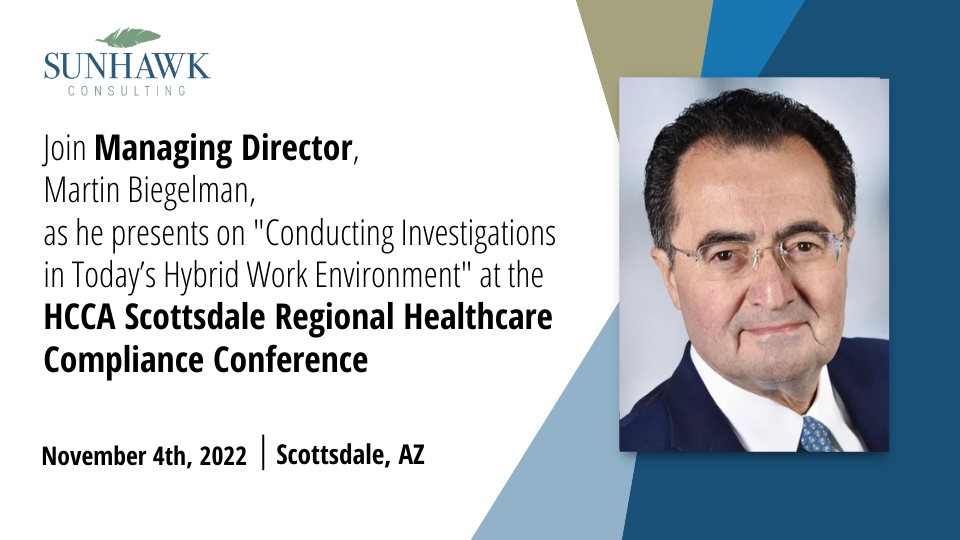 Don't miss out on Martin's presentation on Conducting Investigations in Today's Hybrid Work Environment.
Click HERE to register for the HCCA Scottsdale Regional Healthcare Compliance Conference!
Martin Biegelman, CFE, CCEP
Managing Director & Investigations Practice Leader
SunHawk Consulting, LLC
Martin.Biegelman@SunHawkConsulting.com
Martin Biegelman has spent a lifetime detecting, investigating, and preventing fraud and corruption in various leadership roles in law enforcement, consulting, and the corporate sector. His work on behalf of corporate management and boards includes conducting internal investigations, including independent investigations, alleging fraud, corruption, Foreign Corrupt Practices Act violations, conflicts of interest, whistleblower retaliation, and other employee and vendor misconduct. Martin's work also includes developing, assessing, and enhancing corporate compliance and ethics programs including internal investigative and anti-bribery compliance programs, as well as performing fraud risk assessments.