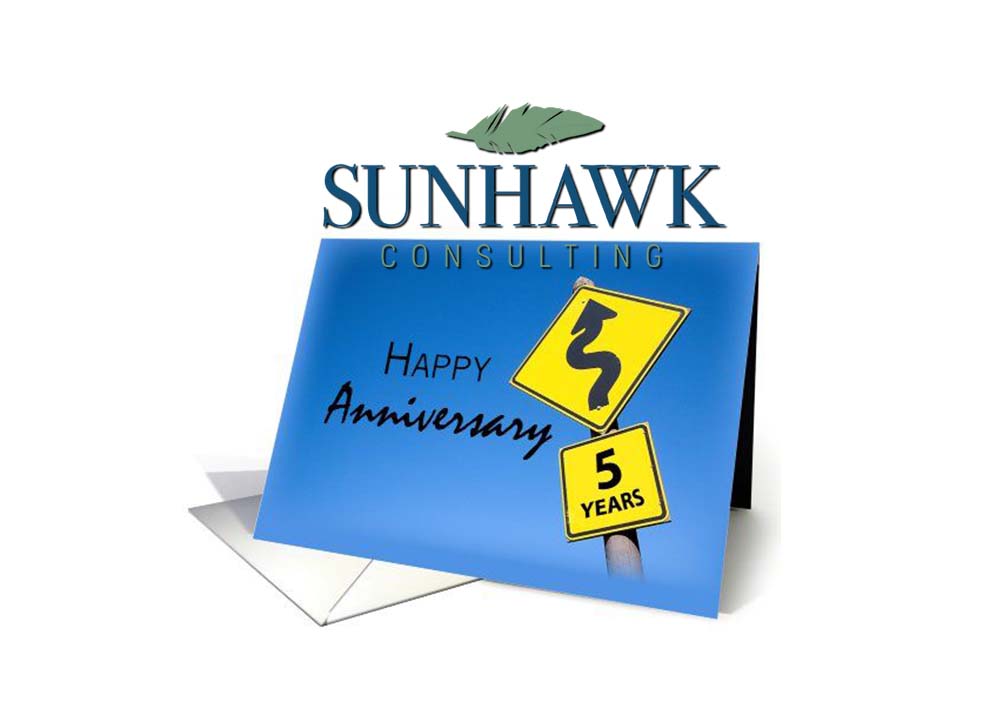 SunHawk Consulting, LLC is proud to celebrate five successful years in business!
Since 2017, SunHawk Consulting has provided our clients with a high level of expertise in a wide range of services including Compliance Effectiveness Reviews, Investigations, serving as an Independent Review Organization, Coding Compliance, Statistical Overpayment Calculations, HIPAA compliance and more.
Our appreciation goes to our experienced and dedicated experts for their commitment to SunHawk, and to our new and ever loyal clients.
Over the past five years SunHawk has grown from three to over 70 experts holding over 40 different types of certifications. In just this past year, Nancy Roht, MHA, CHC, joined our team of practice leaders, alongside Managing Director James Rose and Managing Director & Investigations Practice Leader Martin Biegelman, as Director of our Privacy and Security Practice. Nancy joins SunHawk Consulting with over 20 years of experience in governance, compliance, ethics, and research.
Our team continues to be recognized for their commitment in growing as both professionals and experts in their respective industry. This past month, Martin Biegelman was inducted into the Association of Certified Fraud Examiners (ACFE) Hall of Fame during the 33rd Annual ACFE Global Fraud Conference in Nashville, TN. The ACFE Hall of Fame award was created to acknowledge lifetime achievements of a fraud fighter who has taken the anti-fraud profession to a new level.
SunHawk has had the privilege of connecting alongside other businesses and sharing our knowledge and expertise on risk and compliance at dozens of regional and national industry events over the past five years, as both speakers and sponsors. This past year alone, our experts have spoken at more than 15 events, including the SCCE Basic Academies, SCCE Compliance & Ethics Institute, HCCA Regional Conferences, HCCA Managed Care Conference, and the HCCA Compliance Institute.
Though the past couple of years have presented its challenges worldwide, SunHawk has learned to adapt, and become a pillar of support for clients and our experts. SunHawk Consulting is appreciative for the continued support from our experts, colleagues, friends, and clients and we look forward to the next successful five years of partnering with you.
Have a question? We are ready to answer it.